Welcome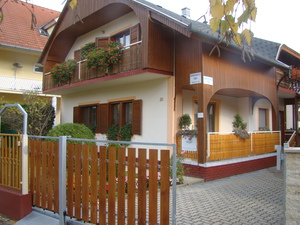 Welcome to "Flower Garden"Apartments or as we say in hungarian – Veeraagoshkaert !
We offer you a pleasant stay in the quiet and family friendly side of Hévíz, only 500 meters from the Spa of Hévíz. We are offering modern, freshly renovated apartments and rooms at favorable prices.
We promise that what we offer will not be disappointed.
We guarantee that your holiday in Hévíz will be unforgettable.
Beautiful garden and flowered courtyard with rest beds
• Fully renovated spacious rooms with modern décor and amenities
• Hévíz spa treatment in the nearby 4-star hotel or spa in Hévíz
• We provide a shuttle service to our guests arriving by plane
• There are grocery stores, shops, restaurants and cafés nearby.
Those arriving to Hévíz are provided with great relaxation, as festivals, excursions, bicycle paths and footpaths provide unforgettable entertainment and experience.
Our first spring guest appreciated our pension with this recommendation:
"Our best gift from our hosts was kindness and an immeasurable tranquility in the 4 days. We were in Hévíz for the first time, but we are sure to return in the autumn. , rooms are cozy, the layout is super practical. "
Featured Services:
• free air conditioning
• free wifi
• Unlimited bike usage
• free transfer from Hévíz to Sármellék
• 10% discount for our regular customers
• Our apartment house is a member of the Hévíz House Rental Association, so you can get many discounts in the city also in and around town !
• Daily ticket to the spa complex of the( 50 meters away) NaturMed Hotel Carbona, you can walk there even in a bathrobe!
• Héviz Lake Bath discounted rates
Welcome to Heviz