Hévíz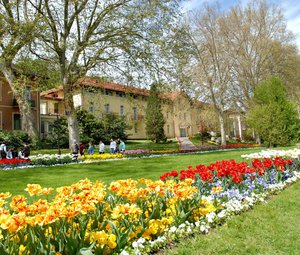 The tranquility of Hévíz, the wonderful hospitality of the small town, and the healing water of Lake Hévíz are a refreshment for everyone.
Hévíz is known for its healing water in Hévíz, where it is possible to bathe all year round regardless of the weather. Bathing in the lake is nothing like it. Water caresses our skin silently while the evaporating vapor has a good effect on our soul. The treatments. Hévíz is waiting for those who like active recreation. You can choose from tennis, horseback riding, cycling paths and hiking.
For relaxation in Hévíz, however, not only the spa treatment and traditional Hévíz services, but also entertainment, afternoon walks, evening wine tasting on the Egregy wine list. Vineyards, cozy cellars, fatty breads, Hungarian dishes and wines, gypsy music complete the relaxation in Hévíz.
Among the sights of the city we recommend the excavations of the Roman era, the church of the Árpád era in egregy and the tomb of the unknown Roman soldier.
Price: Hévíz - park_and_thermal_lake



« Back to the previous page!